Is the 0.7292 a bearish opportunity on the AUDUSD?
The AUDUSD has been mostly oscillating, since the 14th of December 2016, within a downside formation between the range of 0.7525 and 0.7292 respectively.
Both the buyers and the sellers are now placing strong pressures in their attempts of taking control over the pair's price.
The price is now oscillating below the 0.7292 zone which is today's major pivot point area.
Probable Scenario
In the condition where the pair stabilizes below the 0.7292 area, the price could be forced to decline to lower zones such as the 0.7152 level.
The Stochastic oscillator also confirms that the price has greater chances to retrace and decline at the 55 level.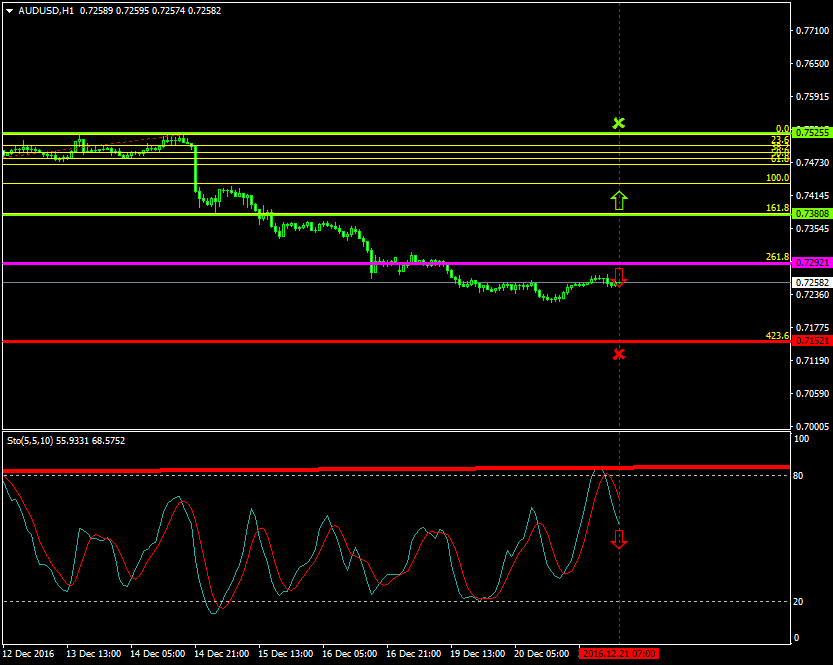 Alternative Scenario
Alternatively, should the buyers take the lead and boost the price above the 0.7380 area Fibonacci's 161.8% the pair could appreciate as high as 0.7525.
Today's Major Announcements
Synopsis
·         Probable trend (Bearish): 0.7292
·         Bearish take profit target: 0.7152
·         Stop loss target: 0.7380
·         Alternative trend (Bullish): 0.7380
·         Bullish take profit target: 0.7525