The sellers of the U.S. dollar were the big ''winners'' since the opening of today's trading session as they were able to force the price from 120.46 to 119.45.
The price has now stabilized above the 119.45 zone which is today's major pivot point area where both the buyers and the sellers will attempt to take the lead.
In contrast, should the sellers increase their pressures at the 119.45 levels they could force the pair even lower and thus cancelling out the high probabilities for an uptrend formation.
Probable Scenario
In the scenario where the buyers exert far greater pressures, the pair could escalate to 120.07, Fibonacci's 61.8%, 120.46, Fibonacci's 100.0%, and 121.08, Fibonacci's 161.8%.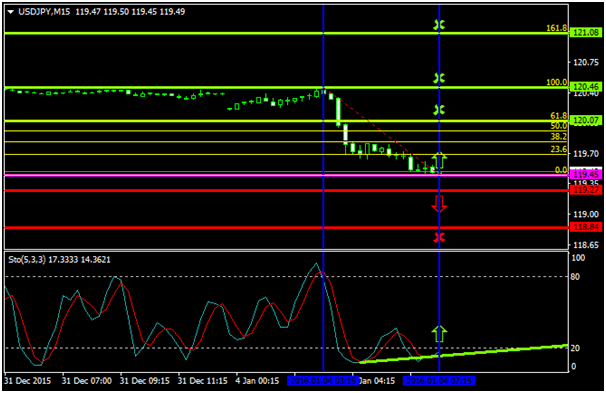 Alternative Scenario
Alternatively, in the condition where the bears place greater momentum and the price decelerates below the 119.27 level, the pair could drop to 118.84.
Today's Major Announcements
There are no any major announcements that could impact the Japanese yen
The ISM Prices Paid (Dec) and the ISM Manufacturing PMI (Dec) releases are expected to have a strong impact on the U.S. dollar
Synopsis
Probable trend (Bullish):119.45
Bullish take profit targets:120.07, 120.46, 121.08
Stop loss target:119.27
Alternative trend (Bearish): 119.27
Bearish take profit target:118.84