Deutsche Bank AG ETR: DBK Stock fell 3.9% on Thursday after reporting lower-than-expected earnings for Q1.
Germany's largest bank
posted a net profit of €575m
for the first three months of the year. The figure is more than double the €236m the bank reported in the same period the previous year earlier. The surprise figure also beat analysts' expectations of €522m.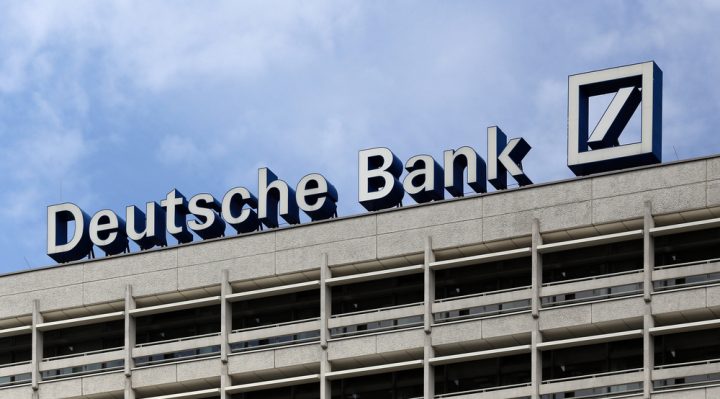 Sending Deutsche Bank AG ETR: DBK stock tumbling was the news that Revenues fell 9 per cent to €7.3bn. Deutsche's global markets revenues rose 9 per cent, but the five largest US banks collectively enjoyed a 15 per cent rise in global markets revenue in the same period. The decline is partly attributed to an accounting effect relating to the cost of Deutsche purchasing back its own debt.
Deutsche Bank AG ETR: DBK Cutting Costs
Over the last few years Deutsche Bank AG ETR: DBK has struggled because of , a low-interest rate environment, weak earnings and penalties on previous misconduct. The Frankfurt-based bank paid $7.2 billion to settle a charge by the U.S. Department of Justice that it misled investors over the way it handled residential mortgage-backed securities (RMBS).
The bank has implemented severe cost-cutting measures. 130 branches out of a proposed 188 closures in Germany have been made so far. The actions have made 1600 people redundant, but the bank has lowered adjusted costs by 5 percent.
Brexit to Cause Job Losses
Sylvie Matherat,  the chief regulatory officer, suggested the bank was considering
job moves because of Brexit
. Up to 4000 jobs may be lost to Germany. Deutsche Bank AG ETR: DBK currently employs 9000 people in the UK and only last month entered into negotiations for a new London headquarters on a 25-year lease. UK-based companies can do business throughout Europe. However, following Brexit these companies but could lose that right.
Concern
Despite the success in reducing costs, Deutsche Bank AG ETR: DBK should be concerned about losing ground to its US-rivals. Its chief executive said on Thursday that the company must set its sights higher. In the global investment bank league tables. the bank started the year
having fallen to joint second
. It  has now slipped to sixth place.
In so much global uncertainty, the future for Deutsche Bank AG ETR: DBK isn't clear. A messy Brexit could see the German giant lose even more ground against its US rivals.