Will it be a bullish breakout at 0.8408 on the EURGBP?
The upside pressures on the EURGBP got more tensed since the 15th of December 2016 where the price climbed from 0.8331 to 0.8408.
Today's major pivot point area, the 0.8408 zone, is a critical level for the buyers in their attempts of boosting the price once again to the upside.
Probable Scenario
The latest stabilization of the price close to the 0.8408 level is a good indication that the bulls could likely exert momentum to retrace the pair upwards.
Stochastic oscillators' formation signals that a probable bullish retracement at the 75 level has greater probabilities to occur.
In the event where the pair appreciates, the buyers could set their take profit target at 0.8456.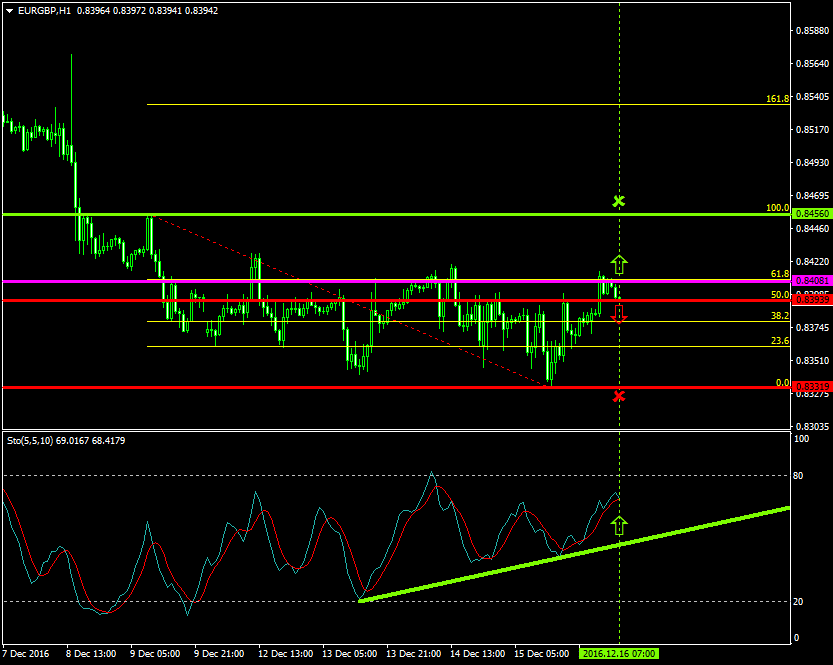 Alternative Scenario
Alternatively, a bearish break-out below the 0.8393 zone could signal that the sellers may exert far greater pressures to force the price to lower areas such as the 0.8331 level as their first target.
Today's Major Announcements
The euro zone's CPI – Core (YoY) (Nov) and the CPI (YoY) (Nov) releases are expected to have a medium impact the euro

There are no any releases on the sterling
Synopsis
·         Probable trend (Bullish): 0.8408
·         Bullish take profit target: 0.8456
·         Stop loss target: 0.8393
·         Alternative trend (Bearish): 0.8393
·         Bearish take profit target: 0.8331