Can the sellers force the EURJPY lower at 122.12?
The pair has been recently oscillating between the range of 124.08 and 122.12 as the sellers were able to overtake and lead the price.
The sellers attempted to place greater pressures since the 15th of December 2016 and were indeed the big gainers with a profit of around 200 pips to their favour. Today's major pivot point area is the 122.12 level.
Probable Scenario
The latest stabilization of the pair slightly close to the 122.12 area is a good indication that the price may retrace once again to the downside.
In the event where the pair drops, the sellers could lock their profit at 120.92.
The Stochastic oscillator confirms the downtrend formation thus showing that the pair has greater probabilities of retracing downwards.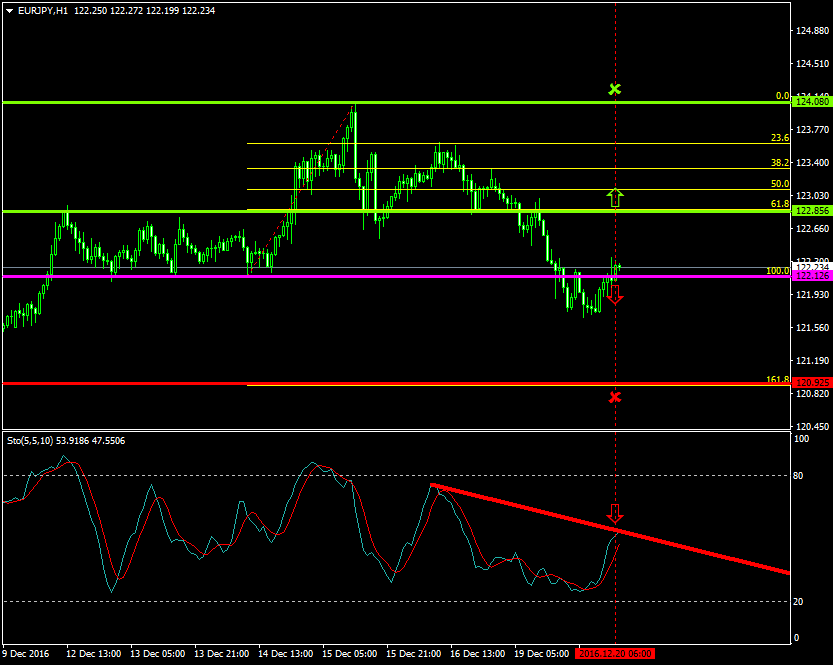 Alternative Scenario
In contrast, in the condition where the bullish pressures get more tensed and the pair breaks above the 122.85 level, the price could rise to 124.08.
Today's Major Announcements
The PPI (MoM) (Nov) and the PPI (YoY) (Nov) releases are expected to have a medium influence on the euro

There are no any releases on the Japanese yen
Synopsis
·         Probable trend (Bearish): 122.12
·         Bearish take profit target: 120.92
·         Stop loss target: 122.85
·         Alternative trend (Bullish): 122.85
·         Bullish take profit target: 124.08