Oil, Gold and other commodity prices were lower on Thursday, falling to its lowest level in six months, amid fears of a glut in global oil supplies. Gold slipped to a six-week low after the Fed hinted at a potential rate hike in June.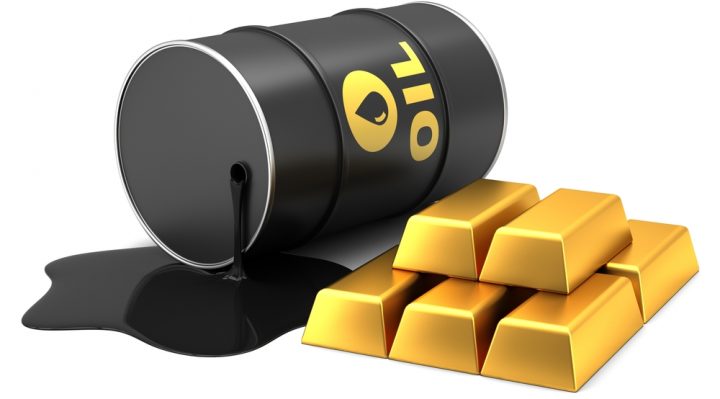 Gold futures tumbled to a low of $1,232.80 per troy ounce before settling at $1,235.50, down $13. Spot gold was trading at $1,234.4.
The Federal Reserve held interest rates on Wednesday in a widely-expected move, but said the central bank was still on track for two more rate hikes in 2017.
The Fed said it expects the economy to recover from a soft first quarter, noting that the labor market is strong and inflation is nearing its target.
Gold is sensitive to U.S. interest rates. Higher rates attract investors looking for high-yielding assets.
Silver futures lost 0.2%, or 2.9 cents, to trade at $16.50 per troy ounce. Palladium fell to $798.35 per ounce, and platinum dipped 0.2% to $903.30. Copper was 1.5 cents lower, trading at $2.528 per pound.
Largest Decline This Year
Metal prices saw their largest daily decline this year on Thursday.
Elsewhere, oil prices sank, extending overnight losses, amid fears of a global oversupply. U.S. West Texas Intermediate crude lost 2%, or 99 cents, to trade at $46.84 per barrel. Brent oil fell $1.01 to trade at $49.78 per barrel.
A rebound in U.S. shale oil production has put pressure on oil prices. Investors fear increased drilling activity will offset efforts by OPEC and non-OPEC producers who agreed to cut back production to curb the oversupply.
The U.S. Energy Information Administration said on Wednesday that crude oil inventories declined by 93,000 barrels, a smaller draw than expected by analysts.
The EIA's report also showed that gasoline inventories rose by 191,000 barrels.
The U.S. added rigs for the 15th straight week, reaching its highest level in nearly two years.