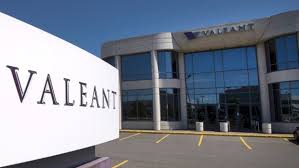 Valeant Pharmaceuticals International Inc.'s (VRX) CEO, Mike Pearson, will step down in a shakeup of the company's board and management. The move comes after a series of controversies that led to a 61% decline in shares last week.
The company is still searching for a replacement for Pearson, who will serve as CEO until his successor is named. Bill Ackman, the billionaire activist investor whose firm is one of the company's biggest investors, has been added to Valeant's board.
Valeant has asked its former CFO Howard Schiller to resign from the board on grounds of "improper conduct." Schiller stated that he never engaged in improper conduct and has refused to step down from his position as director.
The shakeup comes after three weeks of chaos at Valeant, which was triggered by Pearson's return from a medical leave. The company has delayed the filing of its annual report due to an internal investigation, and has also disclosed an SEC (Securities and Exchange Commission) probe. Valeant also announced that it would be restating several quarters' worth of results.
Shares were up 12% to $30.10 on the news, with Valeant's stock seeing its biggest intraday gain since February. The stock fell by over half last week after cutting its 2016 forecast, posting disappointing fourth-quarter results and stating that it was at risk for breaching debt agreements.
Ackman's addition to the board will give his firm, Pershing Square Capital Management LP, two director positions. Stephan Fraidin, VP of Pershing, joined the board earlier in the month. Katherine Stevenson resigned from the board voluntarily.
Valeant's board is close to completing its investigation into its business practices. The probe began last year after the company revealed that it used its relationship with a mail-order pharmacy to inflate sales.
Valeant's former corporate controller, who remains unnamed, has been placed on administrative leave.