The British Pound was lower in today's European trading, as political woes saw GBP hit an eight-week low.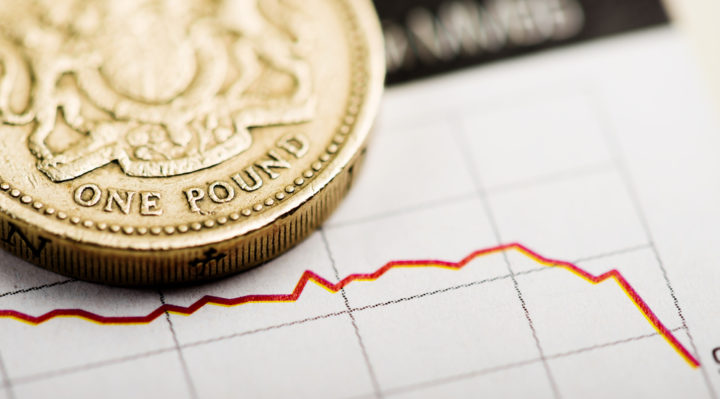 Election Fallout
The fall out from the UK election, which saw Prime Minister Theresa scrape a narrow victory, continued today after a disastrous Friday. Prime Minister Theresa May's position remains precarious after the Conservative Party unexpectedly lost its parliamentary majority in Thursday's election. Rating agency Moody's said that the inconclusive outcome to the election has fuelled concerns over the continuing Brexit negotiations. As a response Moody's is making a 'credit negative' rating for the UK.
At this stage we do not know whether the Brexit negotiations will begin again on the 19th of June as planned. With some political manoeuvring still to be done by May with the DUP, a lot remains uncertain. However, what looks increasingly certain is that the UK is set for more of a 'Soft Brexit' rather than a 'Hard Brexit'. The pound lower only adds to the increasing concern over May's Premiership.
Pound Lower
At time of writing, the GBP/USD is down 0.44%, trading at $1.2691. Meanwhile the EUR/USD is up 0.68%, trading at 0.8838. Elsewhere, the US Dollar Index which tracks the greenback against a basket of six weighted currencies, is down 0.17%, trading at $97.07.
Central Banks in Focus
In the week ahead, investors will be focusing on Wednesday's Federal Reserve policy meeting. The central bank is widely anticipated to deliver its second interest rate rise this year. Investors will be looking for clues as to the pace of further moves in the second half of the year. Also in focus is the Fed's plans for a healthier balance sheet. The Bank of England announces its interest rate decision on Thursday but no change is anticipated by analysts. Meanwhile, the Bank of Japan looks set to keep its interest rate at minus 0.1% when it holds its policy meeting on Friday.