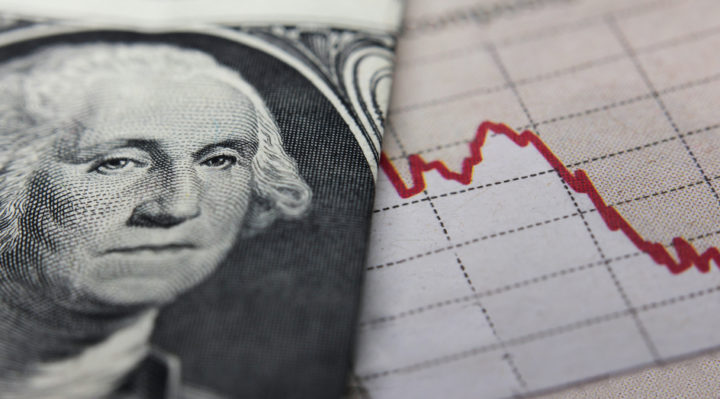 The US Dollar was lower in overnight trading, following the release of soft US Jobless Claims Data.
According to official data released by the US Labor department last week, the number of people who filed for unemployment assistance in the U.S. last week increased less than markets had expected.
The number of individuals filing for initial jobless claims stayed unchanged from the 211,000 recorded in the previous week. This disappointed markets after analysts had expected claims to increase to 219,000 last week.
However, the four-week moving average, which is regarded as the more reliable gage of US jobless claims because of the volatility in the weekly figures.  dropped by 5,500 to 216,000.
US Dollar Lower
As the trading week began in Asia, the USD found itself under continued pressure.  Also affecting the performance of the greenback was US consumer sentiment data holding steady in May. May's preliminary publication of the data from the University of Michigan's Consumer Survey Center showed that consumer sentiment held steady at 98.8 last month. This was better than expected as analysts had forecast a decline in the figures to 98.5. The US economy, the world's largest economy is nearly 70% consumer spending driven , so the key consumer spending and sentiment data are keenly watched by analysts to provide indications on the health of the US economy.
At time of writing, the US Dollar is down against most major currencies. The US dollar index which tracks the USD against a basket of six weighted currencies is down 0.14%. Elsewhere the USD is down 0.18% against a battling Euro. greenback is also down in Cable, down 0.19% against the British Pound. Against the Japanese Yen, the US Dollar is slightly lower, down 0.o3%, whilst against its Dollar cousins, the US dollar is down 0.09% against the Canadian Dollar and down 0.17% against the Aussie.
Today's USD Outlook
As tensions seemed to have eased between the US and Iran and a lack of key data releases on today's economic calendar, analysts will be looking ahead to the speech by Federal Reserve Bank of St. Louis President and Federal Open Market Committee (FOMC) voting member James Bullard.His speech will be closely followed for clues regarding when the next interest rate rise in the US will be.